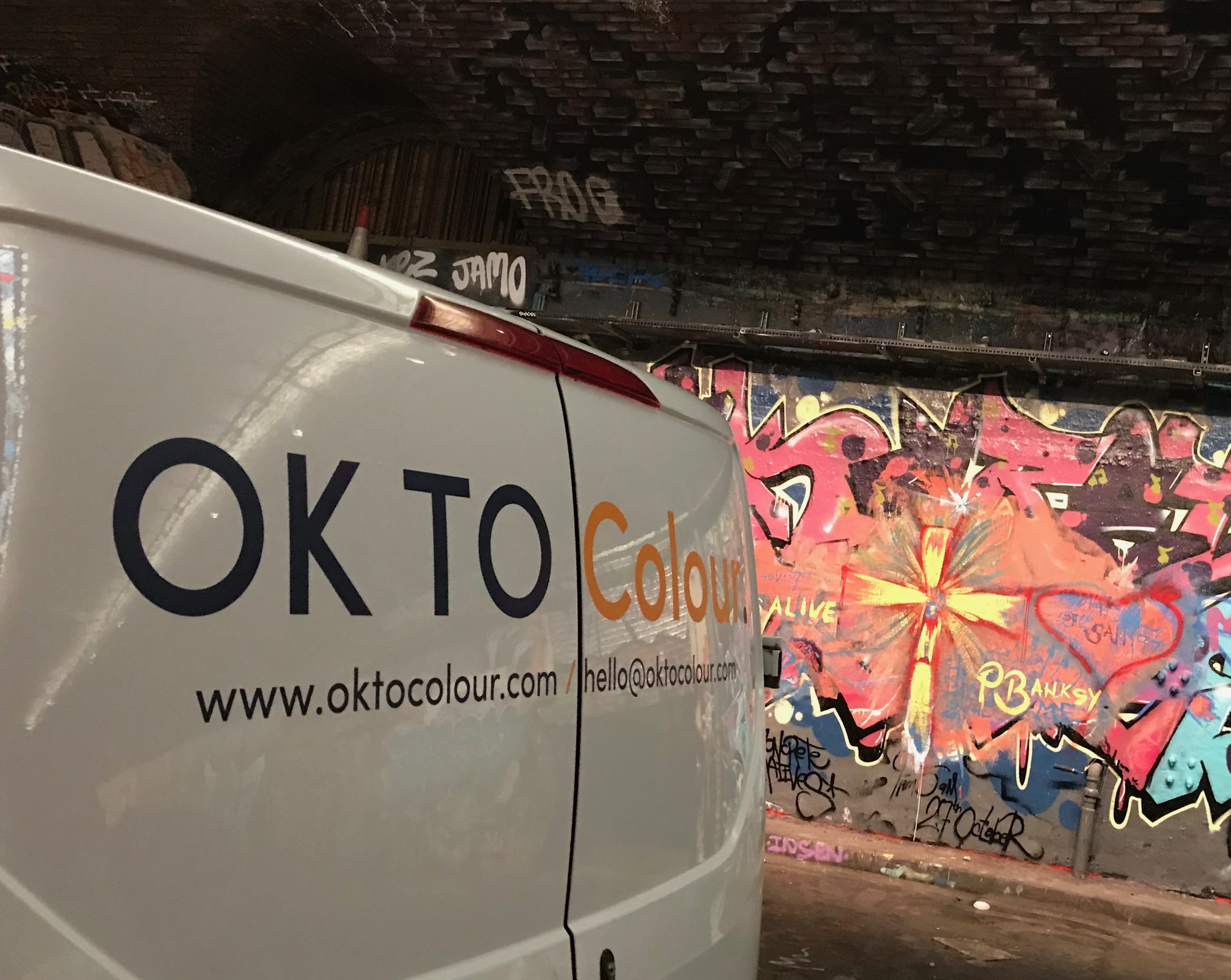 About
With more than 25 years experience in the industry, we feel it's important to move with the times and be current with print processes and materials.
Based in Hackney Wick we are a short hop from Central London, but are happy to travel country wide to achieve our objective.
When presented with a creative brief, we want to make you feel like you are in safe hands. From the simplest of tasks to a full event brand, we thrive at the prospect and rise to the challenge.
So go ahead, add flair, be bold, because Yes! It's OK TO Colour!
Evian x Mickey 90th
It was a privilege to be involved with Evian and the celebrations for Mickey Mouse's 90th anniversary. We helped to convert the the Canvas Space at Harvey Nichols Knightsbridge for the celebrations.
Credit: Protein Space
18montrose x Stone Island Reflective Weave
We were asked to help promote Stone Island's new reflective weave collection at the 18montrose shop in Nottingham. A large, impactful window visual was the order the day.
Here, we used double-sided print to optically clear window film to create a solid graphic that can be looked through to see the product inside. We added overlay reflective cut vinyl logos to turn heads on the street and really make this shop pop!
London Shuffle Club
We worked with London Shuffle Club on a re-brand and colour change to help bring fresh life to their venue. We achieved this using eco friendly printed PVC free wall paper and printed coverup vinyls.
Fun Job, Fun Place - Fun Game!
Flamingo x Ed Sheeran No.6
An exciting job converting the Protein Space studios to help promote the global phenomenom, Ed Sheeran, with the launch of his No.6 album. Here, we wrapped the walls, windows and even the floor to create this immersive and interactive pop up merch store.
Bohemian Rhapsody
For the Blockbuster film Bohemian Rhapsody, we were challenged to re-create Mott The Hoople's tour bus. This was done by carefully wrapping a restored 1970's American Greyhound coach with a removable printed vinyl wrap. To see our work on the big screen was a huge honour.
Credit: Karma Creative.
James Dawe - Costa
Working with renowned illustrator James Dawe, we produced this print made from cut layered vinyl. Once complete, we hand-painted highlights and swirls to create additional texture and depth.
Credit - James Dawe, Jelly London.
Reflections x The Design Museum
We always love a trip to the design museum, so being asked to work there makes the trip extra-special. To compliment the temporary exhibit exploring the work of Skidmore, Owings & Merrill, we produced a printed vinyl wall with a cut chrome silver overlay, a really effective technique to help bring this stunning space to life.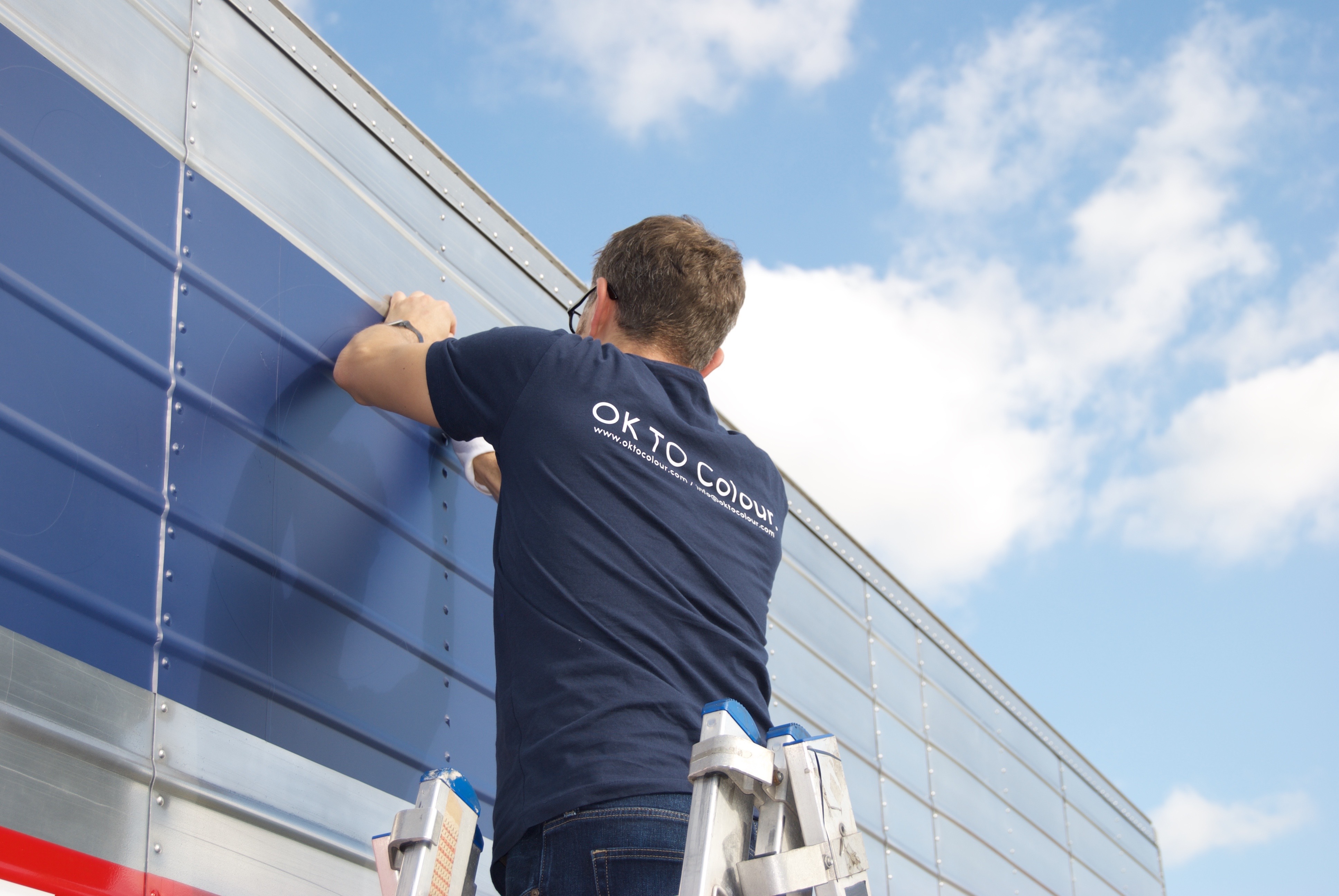 Services
We offer a wide range of services and solutions, check out the list below!
Design / Wide Format Print / Site Surveys / Installations
Events / Exhibitions / Retail / Offices / Domestic / Vehicles
Wall & Window Graphics / Vinyl Decals / Manifestations
Hoardings / Banners / Acrylics / Stickers / Posters
INSTAGRAM
For more of our lastest work follow @oktocolour on Instagram.